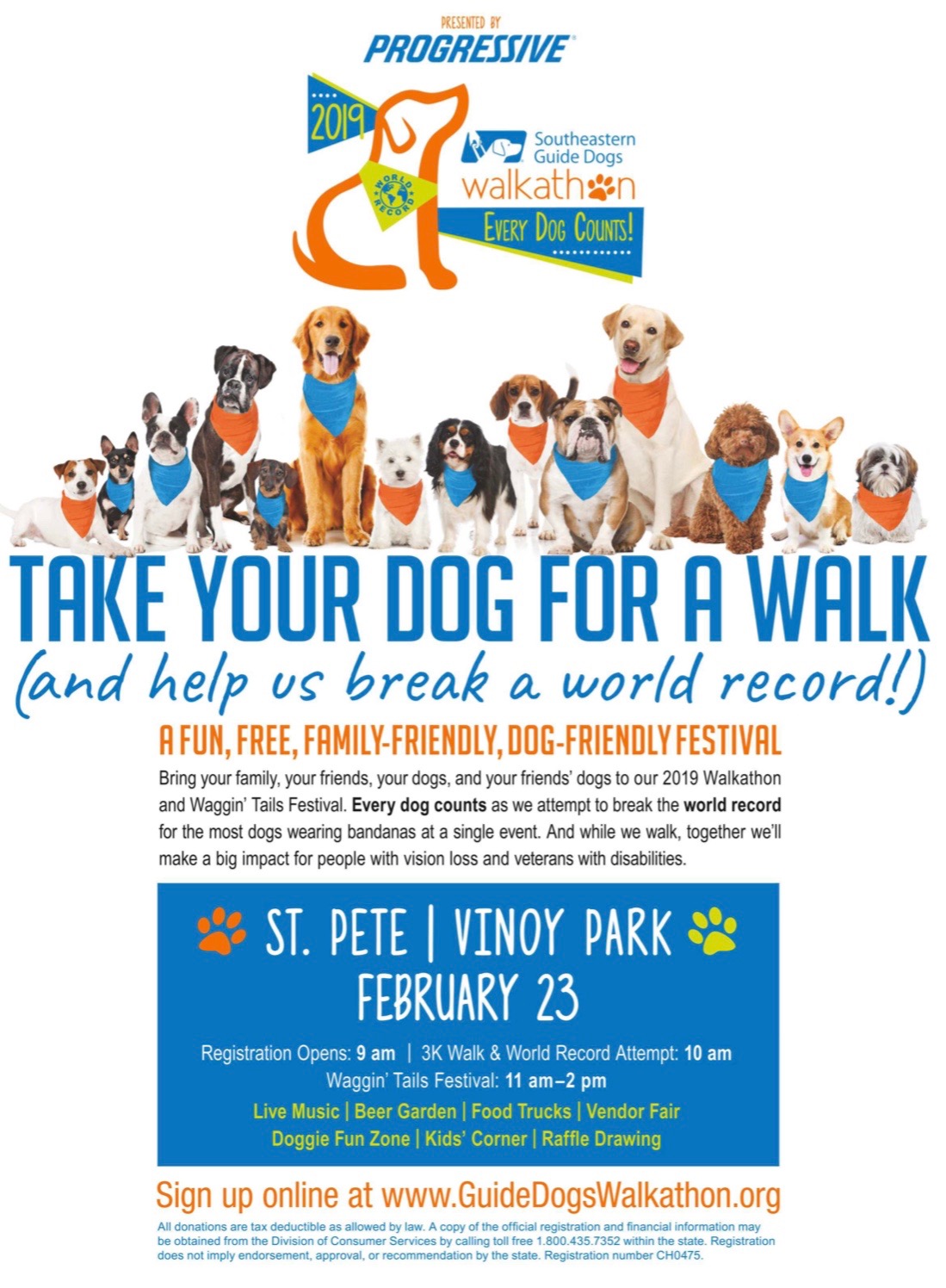 St. Petersburg Walkathon
Saturday, February 23, 2019
Join us at Vinoy Park for our family-friendly, dog-friendly, make-a-difference Walkathon. Walk for a worthy cause as we provide paws for people with vision loss and veterans with disabilities.
Bring lots of dogs because we're going for a world record! Help us break a world record for the most dogs wearing a bandana at a single event. You provide the dogs, we'll provide the bandanas!
This free, family-friendly event includes a 3K walk and a Waggin' Tails Festival with live music, a beer garden, food trucks, doggie zone, kids' corner, vendor fair, and an exciting raffle drawing. And of course, lots of dogs!
Here's the scoop:
– February 23, 2019
– Vinoy Park, 701 Bayshore Drive NE, St. Petersburg 33701
– 3K walk
– Live entertainment, music, delicious food, a beer garden, shopping & vendors
– Fun for the whole family—and the dogs!
– More event details here
Register now for the St. Petersburg Walkathon and take a walk for the dogs!
https://guidedogswalkathon.org/locations/st-petersburg/
Event Location
Vinoy Park
701 Bayshore Drive NE
St. Petersburg, FL 33701
Google Map
Parking is available along the street in designated spaces and in the Sundial Parking Garage located at 117 2nd Street North. Click here for more information about available parking.
Event Schedule
9:00 am Registration Opens
10:00 am 3K Walk & World Record Attempt
11:00 am – 2:00 pm Waggin' Tails Festival
Live Music | Beer Garden | Food Trucks | Vendor Fair | Doggie Zone | Kids' Corner | Raffle Drawing
Fundraising Incentives
$Any – Walkathon Dog Bandana
$100 – Walkathon T-shirt
$250 – Walkathon Tervis® Tumbler
$1,000 – Walkathon Top Dog T-Shirt
$2,500 –"Leader of the Pack" polo shirt
$5,000 – Name a Southeastern Guide Dogs Puppy OR Fund a Student Scholarship
Information courtesy of Southeastern Guide Dogs**