KENNETH CITY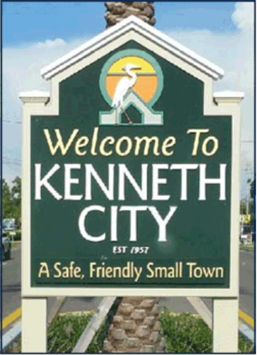 Kenneth City began as 340 acres of pasture land and was incorporated April 30, 1957 as a tax-free community of single family homes.
Kenneth City was named after developer Sidney Colen's son Kenneth. Several of Colen's other projects have carried the names of his children. He named these developments after his children not to immortalize them, but to strengthen his commitment to do the best job he could "because I would never do anything to disgrace their names."
Colen said Kenneth City was "born as a protest of over-bearing regulations and taxes." He intended the town to be a model community.
The town has grown nearly ten times in size since it originated. Kenneth City has also become a lot more active in the last few years. The first town manager since the early days was hired in 2014. Kenneth City has always been a very safe area. The town has one of the lowest crime rates in the state of Florida. In fact, its motto is "A Safe, Friendly, Small Town." A quick drive around the city and you will be able to see that this is an apt description. Kenneth City has great schools, low crime and a fantastic community spirit. The little town has accomplished a lot in just over 50 years of existence.
According to the US Census Bureau, the town has a total area of 0.7 square miles, all land. The 2020 Census reported the population to be 5,121.
In 2020 there were 100 properties that sold for an average sales price of $182,740 and an average of 38 days on market. There are currently 12 properties listed for sale with an average list price of $141,392.
Visit this site next week when we take a closer look at Largo!