LARGO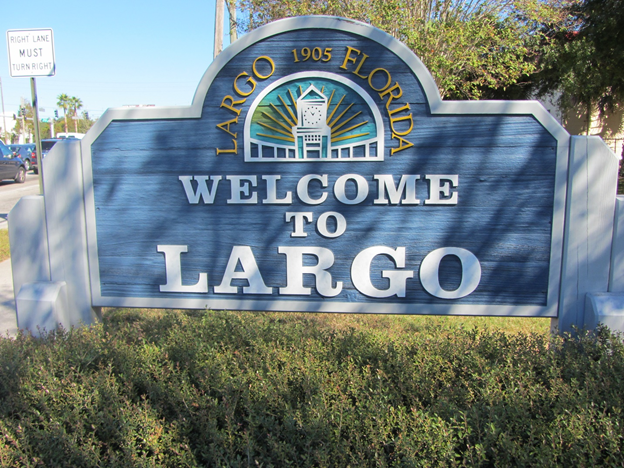 It was 1886, when the Orange Belt Railroad was coming through the area that residents came together to give their community a name.  It seemed that the railroad would only build a station if the stop had a name.  Some residents wished to name the town after the daughter of a prominent resident Gideon Blitch – Luluville.  Ultimately they chose to name their town Largo, after the town's large lake.  (In an ironic twist, the Largo lake was completely drained by the Cross Bayou Drainage District 50 years later).  Others argue that Largo gained its name from the city of Largo, Scotland, where several of the area's settlers came from.   Because of its central location and rich farmlands, Largo quickly became the center of the area's citrus industry, earning the title "Citrus City."
The town was officially incorporated in 1905, and in 1913 became the first town in Florida – and the second in the nation – to adopt a town manager form of government. The town grew rapidly through the boom times of the 1920s. It switched back and forth from "town" to "city" a few times and became a city again in 1974.
Today, residents and visitors alike flock to Largo's Heritage Village, an open-air historical village and museum with structures dating back to the mid-late 19th century. The Heritage Village is adjoining the Botanical Gardens, a real hidden gem! With 182 acres showcasing flora, fauna, and natural resources in lovely surroundings…and it's pet friendly!
According to the US Census Bureau, the city has a total of 19.47 square miles, of which 18.48 square miles is land and 0.99 square miles is water. The 2020 Census reported the population to be 84,948.
In 2020 there were 1,921 properties that sold for an average sales price of $252,110 and an average of 35 days on market. There are currently 94 properties listed for sale with an average list price of $279,164.
Visit this site next week when we take a close look at Madeira Beach!