INDIAN ROCKS BEACH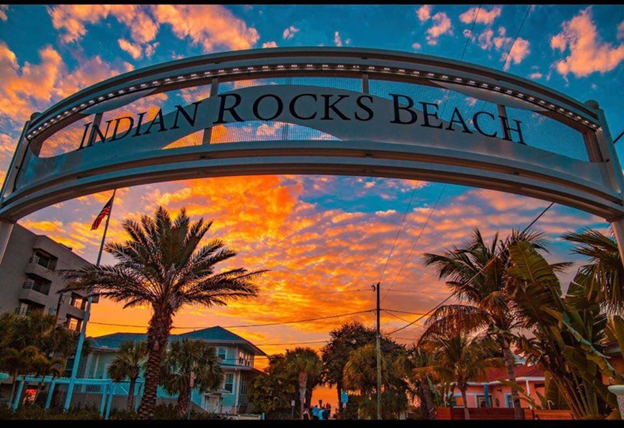 "I liked the place, I thought it was the most beautiful place on God's green footstool, and I think so yet."  Quoted by pioneer settler Harvey K. Hendrick many years after he arrived in Indian Rocks Beach around 1890.
There are two legends about how Indian Rocks Beach got its name. The first is that of a medicine man who used the local waters to heal his very ill chief (Native American Indian Chief Chic-a-Si). After the miraculous healing, the Indians returned to the site each year to fish and drink the water. Early settlers are said to have observed the Indians 'going to the rocks' each year-hence the name. The second legend came from the Native American Indians crossing over from the mainland to the island to fish along the shore. They chose a narrow spot to cross, where the rocks protruding from the water made it easy for them to walk across to the island. So, the rocks became known as Indian Rocks.
Indian Rocks Beach was developed in the early 1920's as a weekend getaway destination for the wealthy. It became known as "Tampa's playground" when the Tampa and Gulf Coast railroad built a spur from the city to the beach. Tampans flocked to their newly discovered paradise, seeking relief from the summer heat and the pressures of boom era city life.
Indian Rocks Beach was incorporated in 1956 after the creation of the longest fishing pier in Florida, and the biggest attraction of all: Tiki Gardens. The multi-acre Polynesian paradise that drew 300,000 visitors a year during its prime years. Today, a diverse, colorful blend of people from all age groups, and places old and new, give Indian Rocks Beach its unique, eclectic "cottage" character. Located on the barrier island Sand Key, there are 26 public beach accesses. Indian Rocks Beach is a mix that residents prize and visitors seek out year after year.
According to the US Census Bureau, the city has a total area of 1.4 square miles, of which 0.9 square miles is land and 0.5 square miles is water. The 2020 Census reported the population to be 4,285.
In 2020 there were 199 properties that sold with an average sales price of $678,635 and an average of 56 days on market. There are currently 13 properties listed for sale with an average list price of $754,623.
Visit us here again next week as we take a look at Indian Shores!