Looking for the ultimate lifestyle in Downtown St. Petersburg, FL? Want to be able to head out the front door and walk to shopping, dining, entertainment, parks, boating, and more? Craving the luxury of modern designs… with the convenience of low-maintenance living?
If you answered yes, then it's time to take a look at these amazing Downtown St. Petersburg condos!
McNulty Lofts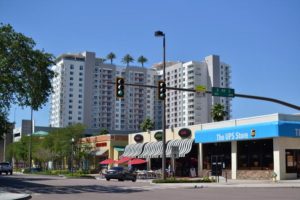 Beautiful contemporary designs. Unbeatable location. Amazing amenities… what's not to love? McNulty Lofts has everything you need to enjoy a fun and active lifestyle in the heart of Downtown St. Petersburg. There's a secured entryway. A beautiful kitchen and lounge area, offices and conference rooms. A gym. Secure guest parking. And so much more.
Plus, at McNulty Lofts, you're walking distance from just about everything! USF St. Petersburg Campus. Al Lang Stadium. Albert Whitted Park. Demens Landing Park. Shopping and dining galore. It really can't get much better than this!
Ovation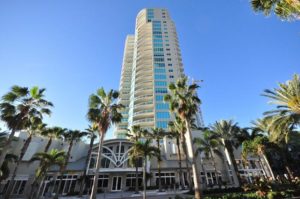 Live life on the waterfront of beautiful Tampa Bay in Ovation. Enjoy shopping at street-level stores or take a short walk to find fine dining and lots more shopping nearby. Rest easy with 24-hour security and covered, secured parking. Plan your lifestyle with concierge service.
Relax in the heated pool. Enjoy the views from your floor-to-ceiling windows. Or even head to a nearby St. Pete favorite—like Beach Drive, Demens Landing Park, or numerous City Trails.
One (New Construction!)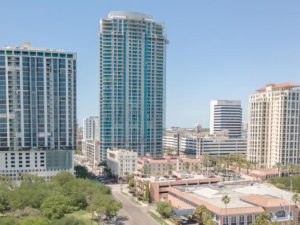 One city block, 41 stories, 253 luxury condos, and an unbeatable modern luxury lifestyle in the heart of Downtown St. Petersburg. The beautiful new homes of One come fully equipped with all the latest features, finishes, and amenities. Gourmet kitchens with large island and stainless steel appliances. Spalike baths. Porcelain flooring. Floor-to-ceiling windows. Private terrace balconies with glass rails… it starts here.
Plus, enjoy great condo amenities, like secured garage parking, lush landscaping, and a location minutes from shopping, dining, parks, and entertainment.
Flori de Leon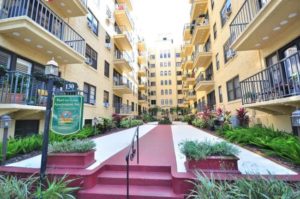 Bring home the luxuries of life in Tuscany with a beautiful condo in the historic Mediterranean-style Flori de Leon. Enjoy breathtaking city views from home, or head up to one of two rooftop terraces to admire the sparkling waters of Tampa Bay.
Just 70 homes (ranging from studio to 2-bed 2-bath penthouses) offer a more private and intimate community setting. Among its amenities are two recreation rooms, a fitness center, and first-floor laundry. Plus, you can't beat the location… just steps from Baywalk, tons of restaurants, museums, theatres, and more.
Bonus! Electric, gas, maintenance, painting, and landscaping are included in homeowner fees!
Ready to Find Home in St. Petersburg?
If you're thinking of buying a home in or relocating to St. Petersburg, then it's time to contact Price Group Realtors. We're here to help you explore the area. Discover it's beautiful neighborhoods. And find the perfect home for your lifestyle.