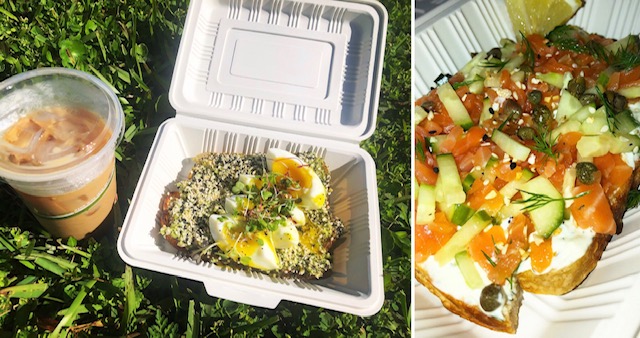 Pineapple Espresso; owned and operated by St. Pete natives – aims to elevate the coffee and food experience!
This small batch coffee roaster will not only be serving the community with their delicious coffee, but also providing some of the freshest & healthiest food options that St. Pete has ever seen from a drive thru! Being busy shouldn't mean your health has to be compromised, or your choices have to be limited! They're already serving some amazing options that customers can't get enough of; like the Everything Toast with their 6 minute eggs and the Sunshine Ricotta Caprese Toast – but are introducing new menu items each week! Additionally, Pineapple Espresso is staying true to its roots by partnering with other wonderful locally owned small businesses like the fast growing Made Coffee for quick grab n' go drinks and nitro brews, as well as Gulf Coast Sour Dough and Fat Beet Farm – to make sure they offer the freshest and highest quality ingredients!
With their eco-friendly cups/food containers & lids that don't require those paper straws that fall apart; Pineapple Espresso has already left its mark on St. Pete, without  leaving its mark on the environment! 
Make sure you check out their Facebook and Instagram to stay updated on all the new menu items and their patio expansion!
Facebook:

https://www.facebook.com/Pineapple-Espresso
Instagram:
https://www.instagram.com/pineapple_espresso_stpete/
Visit them today: 
3045 Dr. Martin Luther King Jr. Street North 
St. Petersburg, FL. 33704