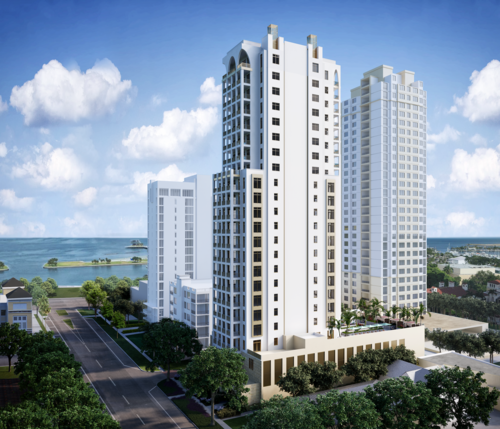 Construction is set to begin soon on the 23-story condo tower named The Nolen in downtown St Petersburg, Florida. The boutique condominium building will be located at 146 4th Avenue Northeast downtown and will be 288 feet tall, with 31 apartments. DDA Development, located in Tampa, is in charge of the project, which is overseen by John Schilling and Bowen Arnold. The business just reported that it has acquired construction finance and that the building is nearly half-sold. Late last year, the corporation closed on a $36 million loan from Trust Bank and paid US$7 million for the property.
Building licenses are due to be issued this month, with the building set to begin in the second quarter of 2022, although site removal has already begun. Along with residential units, The Nolen's foundation will have a three-story parking structure, a residential lobby, and 1,260 square feet of ground-floor retail space. The building will include 63 parking spots and 33 long-term bicycle places in total. The parking garage's entrance and exit will be on Rowland Court, a private street. The Nolen will take roughly 18 to 20 months to build after construction begins, with a projected opening date of early 2024.
Commentary on The Nolen in St Pete
"The Nolen has demonstrated that there is a huge demand for city living that does not compromise privacy." The fact that there are only 31 houses, each with individual entry foyers and no shared internal walls, distinguishes it from other new construction offers," said David Moyer, Director of Sales, Developer Services. "The Nolen's sales pace has surpassed expectations, allowing us to go ahead of schedule and into construction," said DDA Principal Bowen Arnold. Orange Station at the Edge, a mixed-use complex planned at 1301 1st Avenue North, is also being developed by his business.
For more info on this building call Price Group 727-851-6189
---
This article source https://constructionreviewonline.com/ongoing-projects/the-nolen-multifamily-condo-tower-begins-construction-st-pete/