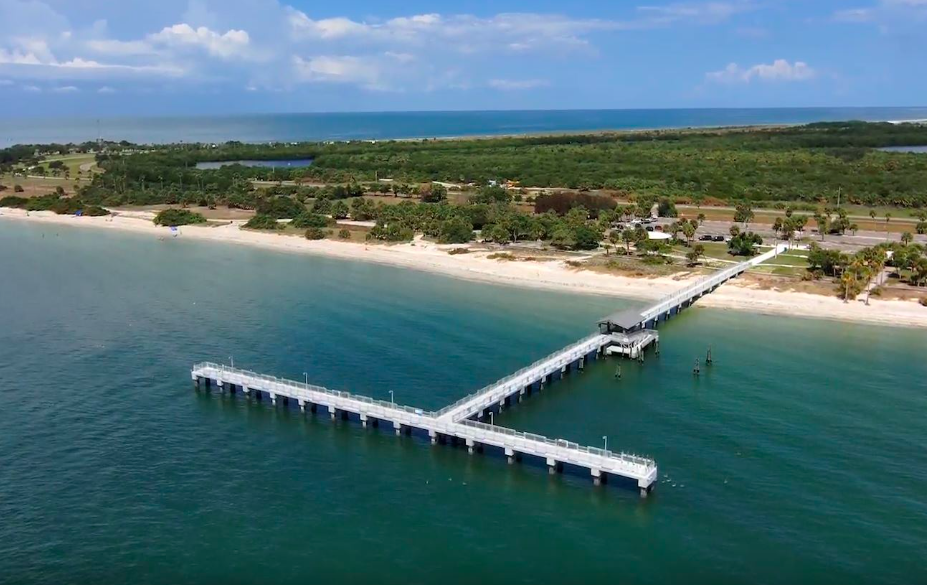 Thanks to a combination of a generous federal grant and a voter-approved tax initiative, Fort De Soto is set to unveil its brand-new and vastly improved pier to the public next week. This exciting development will breathe new life into one of Pinellas County's most beloved parks, and the community can come together to celebrate this milestone during the official ribbon-cutting ceremony at 11 a.m. on Thursday, September 28th. The ceremony will feature the presence of esteemed guests, including Parks & Conservation Resources Director Paul Cozzie and Board of County Commissioners Chair Janet C. Long.
The original Fort De Soto Park Bay Pier, a structure with historical significance dating back to 1943, had sadly deteriorated over the years, necessitating its removal. In its place now stands the state-of-the-art Bay Pier, which occupies the same location. This newly constructed pier boasts an array of modern features designed to enhance the visitor experience. The pier's foundation is supported by sturdy concrete pilings, while concrete beams and a spacious concrete deck provide a stable and durable platform for visitors to enjoy.
One of the standout aspects of the new pier is its attention to detail, with the inclusion of low-level deck lighting ensuring that evening visits are just as enjoyable as daytime excursions. Additionally, fishing enthusiasts will appreciate the convenience of dedicated fish cleaning stations, making it easier to prepare their catch. Furthermore, a shaded area has been thoughtfully incorporated into the design to provide refuge for passengers waiting for the Egmont Key Ferry, which has temporarily relocated to the nearby Fort De Soto boat ramp.
This ambitious pier replacement project was initiated in 2019 and was made possible through a combination of funding sources. A substantial portion, amounting to $4,764,300, was allocated from the Penny for Pinellas infrastructure tax, showcasing the community's commitment to enhancing its recreational amenities. In addition, a Federal Transit Administration grant contributed an impressive $1 million to the project, further demonstrating the collaborative efforts at play to create this new attraction.
Visitors eager to experience Fort De Soto's new pier can find it on the eastern side of the park, situated at 3500 Pinellas Bayway South in the picturesque Tierra Verde area. While exploring this outstanding addition to the park, visitors can also take advantage of the many other attractions that Fort De Soto has to offer.
Fort De Soto Park is renowned for its natural beauty, with pristine beaches, lush landscapes, and a variety of outdoor activities. Nature enthusiasts can explore the diverse ecosystems within the park, while history buffs can delve into the historical significance of Fort De Soto itself, a former military outpost that played a pivotal role in American history.
Furthermore, Fort De Soto Park offers numerous amenities for visitors to enjoy, including picnic areas, playgrounds, and campgrounds. Whether you're looking for a day of relaxation, a family adventure, or a chance to commune with nature, Fort De Soto Park has something for everyone. With the new Bay Pier now open to the public, there's never been a better time to experience all that this stunning park has to offer.
After a fun day at the beach and the new pier why not head to downtown St. Pete and walk the pier https://stpetepier.org/
After falling in love with Pinellas County why not make it your new home and search for homes for sale on our site!